OUR VISION FOR KERSHAW COUNTY
A healthier Kershaw County where individuals and communities are empowered to take charge of their own health and well-being.
We are a family practice medical clinic that provides healthcare to the uninsured and underserved residents of Kershaw County.
Donations of time and money make all the difference in the level of care we can provide. 
With your help, we make a huge difference, every single day! We provide HOPE and CARE…. our goal is to empower our patients to break any cycle of poverty, and allow them the opportunity to take control of their own healthcare needs.
 
Why Are We Here?
You may wonder, with the Affordable Care Act, if there's even a need for a free clinic like ours any more.
The answer is a resounding YES – the need is greater now than it's ever been before. Here's why:
With a changing medical coverage landscape, people are still in need of quality medical care.
Many people in Kershaw County and South Carolina are either under or uninsured.
Statistics show that 24% of adults under the age of 65 and 7% of children under the age of 19 in Kershaw County are uninsured.
These figures are shocking. Many of our patients have never had the opportunity to receive consistent medical care. As a result, their conditions are often considered to be complex.
 
PROVIDING HOPE & CARE
We serve about 800 patients with about 3,600 patient visits annually.
When necessary, we refer patients to community specialists for surgery, urology, dermatology, emergency dental, and a whole lot more.
We also provide Chiropractic Services, Counseling, Diabetes Education, Physical Therapy, and Breast Cancer and Cervical Cancer screening programs for women.
Prescription medication is provided at no charge to our patients.
We offer one-on-one health education opportunities in an effort to help our patients to adopt a healthy lifestyle.
We also have strong relationships with other local organizations to help our patients get connected with helpful economic resources for more than just their medical needs.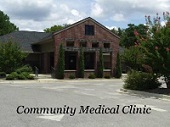 "Even with the changing face of healthcare, there will always be a need for nonprofit free clinics, such as the Community Medical Clinic, to serve the uninsured and underserved residents of Kershaw County."
- Susan Witkowski