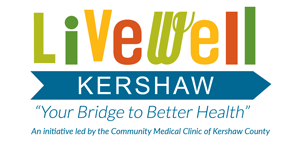 LiveWell Kershaw
LiveWell Kershaw is a population-based health approach to improving health outcomes in Kershaw County. The goal of this effort is to make Kershaw County the healthiest county in South Carolina, based on the County Health Rankings compiled annually by the Robert Wood Johnson Foundation and the Population Health Institute at the University of Wisconsin.
In collaboration with the Arnold School of Public Health at the University of South Carolina, this initiative began with a county-wide health assessment followed by the development of a health improvement plan. Eat Smart/Move More Kershaw County and KershawHealth provided start-up funding for this effort.
LiveWell Kershaw is guided by three fundamental principles:
Collaboration among citizens, governments, businesses, healthcare providers, civic and religious organizations and schools is critical to achieving the objective.
All stakeholders must take ownership in and be accountable to quantitative measures of overall population health in Kershaw County.
A comprehensive, long-term plan that reaches critical mass is necessary to move the overall population health numbers in a positive direction.
Through a collaborative and extensive data collection process and analysis, four priority areas were identified by the community:
Access to appropriate care
Obesity/nutrition/physical activity
Smoking cessation
Teen health
While community members and organizations county-wide are already targeting these issues, strategies are being developed and implemented to better coordinate these activities and address the gaps which remain. A full version of the report can be downloaded here:  Community Health Needs Assessment 2017.
For more information about LiveWell Kershaw: 803.272.8325
To learn more about the LiveWell Kershaw initiative, click the links below. Both the reports and case studies open PDF documents. 
LiveWell Kershaw Quarterly Reports