Serving you from 8 locations around Kershaw County!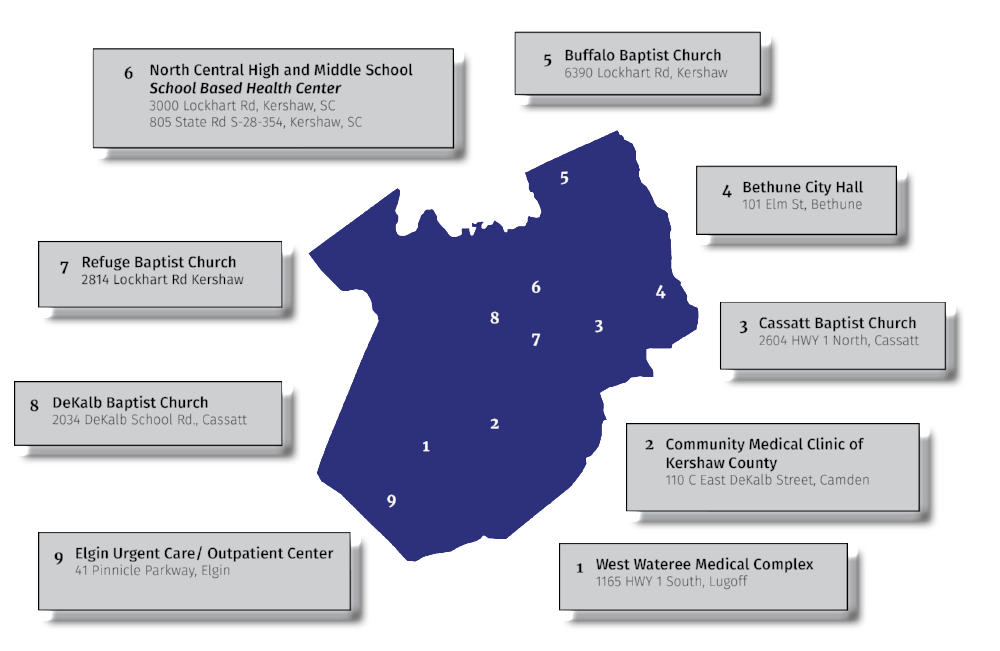 When you qualify to become a patient with us, office visits at any of our locations are FREE.
We can connect you with a doctor and help you apply for programs such as Medicaid, Welvista and SNAP (food stamps).
Call our healthcare navigator at 803.408.0500 to schedule an appointment at a location near you!
To be eligible for services at the Community Medical Clinic of Kershaw County you must:
Be a Resident of Kershaw County

Have NO Health insurance (this INCLUDES Medicaid, Medicare, and VA health insurance)

Meet our Income Eligibility Guidelines
Income caps are set according to federal poverty guidelines. The formula is also based on the number of people living in the home. This information is required by the pharmaceutical companies who provide free medicines to the clinic patients. Patients must provide current proof of income and residency before scheduling an appointment.
What To Bring
Patient Screening Appointment
Social Security Card

If you have lost your card, a replacement may be obtained from 1111 Broad Street, Camden.

Proof of Residency

A utility bill, cable bill, property tax bill for your home or vehicle, residential lease, home owners or renters insurance are all acceptable.
If you are living with a friend or relative, you must bring proof of their residency, as above. Also, a letter that is signed and dated stating that you stay with them. Include the address. If they provide you with money, free rent, or any other assistance, please include the amount of their support.

Medicines

Any medicines that you are now taking or a list of your medicines and dosages.

Proof of Income

30 days current, consecutive pay stubs, (one month) for ALL individuals in the household with income.

Federal Tax Return

A 1040 from, for the most recent year

Proof of SS, SSI disability, unemployment, food stamps, workman's comp, retirement statement, child support, or alimony.

Proof of application or denial from SS, SSI disability, unemployment, food stamps, or Medicare.

Medicaid Denial Letter

Get this from the DSS office
Established Patient Appointment
Established patients need to provide current, up-to-date information regarding their residency, income, etc. All data is updated annually by the clinic. Patients should bring all documents regarding this information with them for every appointment. All medications should be brought with patient.