Our Care Model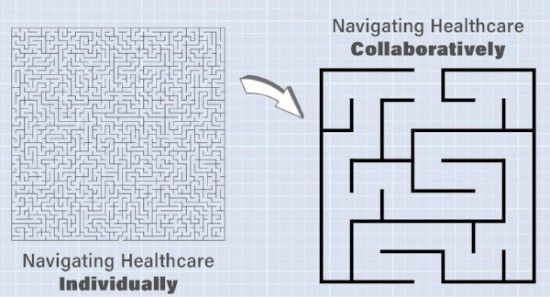 We treat the whole person, not just a list of symptoms. Our patients come to us with complex medical issues in addition to the need for assistance in many aspects of daily living, including nutrition, literacy, transportation, and housing. Only when these factors are addressed can they pursue the steps toward healthy living.
We have adopted a new care coordination model, which means we can more effectively treat (and track the outcomes!) the whole person, and not just a list of symptoms.
The US spends more money on healthcare than any other nation, yet lags behind developed countries in key outcomes. The Pathways Community HUB Model helps address this situation by identifying at-risk individuals and providing them with an effective, coordinated connection to medical and social services. This new model allows the Clinic to continue to provide high-quality services to those in our community who need it the most, as well as efficiently track and report outcomes for medical, social, and economic determinants. Basically, we'll now be able to more effectively identify and track the impact of our services. Traditional healthcare has relied on a reactionary system that delivers treatment in response to urgent needs and reimbursement based on service volume rather than value. The Pathways Community HUB Model helps reverse this trend by shifting the treatment emphasis to preventative care that contains costs rather than increasing expenditures.
CMC's Hub and Pathway database went live March 13, 2017.
We are the first free clinic in the country to use this model.
Distributed Leadership Model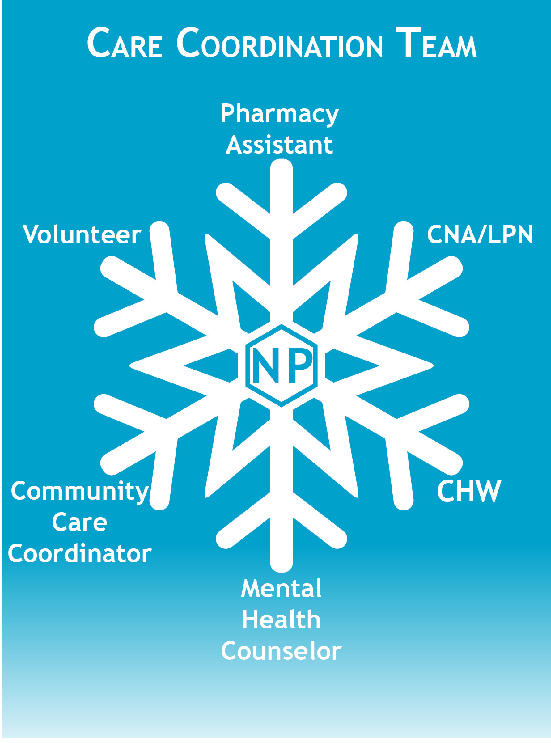 The Care Coordination team for the Community Medical Clinic is led by a Nurse Practitioner (NP) and is supported by at least six individuals that work together to serve the needs of the patient. This team includes a Community Care Coordinator, Mental Health Counselor, Community Health Worker (CHW), Certified Nursing Assistant (CNA) or License Practical Nurse (LPN), Pharmacy Assistant and Volunteer. The Nurse Practitioner in this model is supported by the CEO of the Community Medical Clinic as well as the Medical Director. Eventually, all team members within the Community Medical Clinic will transition to the snowflake leadership model which will empower team leads to make decisions in a collaborative environment.
Each team member has a unique and complementary scope of practice which allows them to support each other and more importantly, the patient. Patients can
be seen by anyone on the team at the Camden office, the Lugoff office or any of the CMC satellites.
The two patient primary outcomes are to increase a patient's length of life and quality of life.  The Community Health Workers are primarily focused on social and economic factors, while the Community Care Coordinators (CCC) are primarily focused on health behaviors. Clinical care is provided by the Nurse Practitioner, Certified Nursing Assistant, and the Mental Health Counselor.