Our History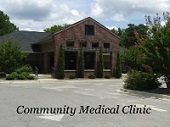 Our history is a unique story of a community coming together to improve lives, renew hope and prevent diseases. Our staff, our volunteers and our supporters all have one thing in common. They lead from within. These individuals have a passion for our mission and for the last two decades that shared passion has allowed the Community Medical Clinic to provided innovative healthcare to the uninsured and underserved residents of Kershaw County. 
What started with one doctor, a part-time director, and a lot of hard work has evolved into a healthcare organization that not only provides direct medical services, but that is also implementing innovative solutions to improve population health. For the past 19 years, CMC has been empowering Kershaw County residents to live a healthy life. 
Thanks to successful partnerships, intelligent business decisions, our volunteer base and community-based financial support, CMC  offers a variety of programs and specialties to help patients live a healthy life.