LiveWell Kershaw Coalition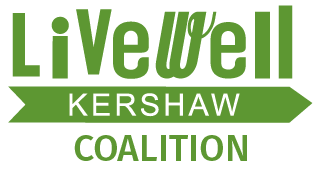 All people deserve to live well.
Living well starts with good health across the community. This is the premise fueling the LiveWell Kershaw Coalition, an initiative led by the Community Medical Clinic of Kershaw County and funded in part by a grant from Healthy People, Healthy Carolinas (an initiative of The Duke Endowment).
LWK was founded by a group of community members interested in using data to guide action aimed at addressing the health issues faced by the residents of Kershaw County. Today, LWK works to foster collaboration between citizens of all ages, working in partnership with public and private sector organizations and schools to increase community awareness of health issues. The goal is to improve access to quality healthcare and encourage the people of Kershaw County to take ownership of the health of the whole county, acting together to reduce chronic disease and obesity among the members of the community. LWK is working to move the needle in community health care by getting youth engaged in this conversation.
To learn move visit livewellkershaw.org. 
LiveWell Kershaw Links
LiveWell Kershaw Quarterly Reports