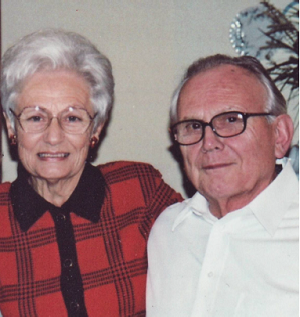 Pat and Bryan Adams wanted to give something back to their adopted country and especially to their community. This is their story as told by good friend JoAnn Hanks.
"Bryan came to America in 1968 and was employed by the DuPont Company shortly after he arrived. He was sponsored by Jim Burdette of Camden, whom he met through his hobby of using a "ham" radio. They developed a friendship that led to his moving to the USA. Pat followed in 1969. They purchased a home in Camden and remained there until they died, he in 2009 and she in 2011.
The Adams maintained their English custom of having tea in the afternoon. They were a delightful couple who never had any children of their own. It was evident when I looked through her collection of photos that she enjoyed the children of her neighbors and friends. I know that she maintained contact with her friends in Isle of Man, United Kingdom because I received many notes and cards after she died.
They asked me to be the executor of their will. Bryan wanted to give some money to Medicare because of the care that he was able to receive in the United States. I told him about the Community Medical Clinic and their mission to provide medical care and medicine to the uninsured residents of Kershaw County. He reasoned that it was better to give back to his adopted community, Kershaw County in South Carolina. And so at their instruction, I am sending this check for $45,000 to the Clinic from their estate. It pleases me to fulfill their wish."