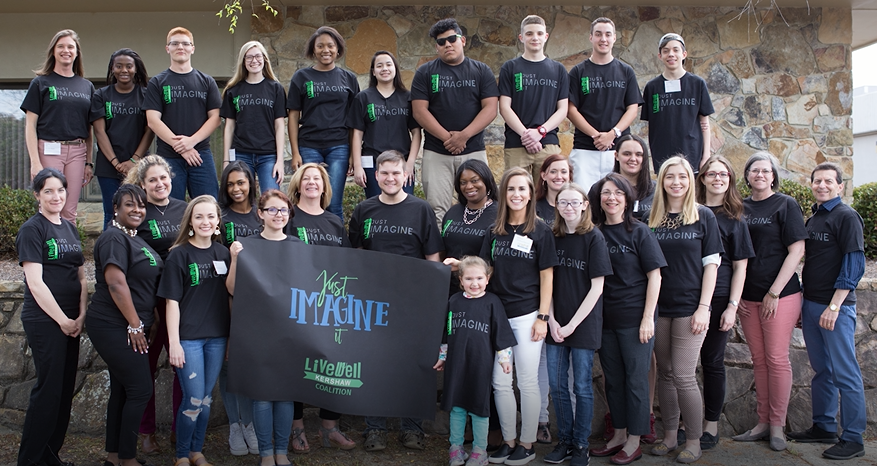 Kershaw County students have stepped up to the challenge of creating a healthier community, which is no small task. With the help of the LiveWell Kershaw Coalition (LWK), students across the county have made a commitment and have begun taking action towards leading healthy lives while encouraging others to do the same.
On Friday, April 13th, LWK hosted Just Imagine It, a one-day workshop for high school students in Kershaw County to come together and create an action plan. During this workshop, students were taught to lead together and to lead from within to create key solutions that can be embraced by students to begin to transform the culture in their schools for healthy living.
"The biggest thing that I'm taking away from this is the inspiration that I see from all the servant leaders around me," Matthew Rush, a student at Camden Military Academy said. "It's not easy coming up in front of everybody and saying, 'This is how we need to change,' not how we're doing good. It's difficult to point out our flaws rather than where we're succeeding. So, you all really inspired me with that."
Before Just Imagine It, LWK held focus groups at each Kershaw County high school. During these meetings, LWK coalition members asked students about their definition of living a healthy life and how they thought their schools could improve. The information from these conversations was summarized and incorporated into the Just Imagine It workshop.
"The LiveWell Kershaw Coalition's mission is to lead a collaborative effort in making Kershaw the healthiest county in South Carolina, and including students in this conversation is very important," Kathryn Johnson, LiveWell Kershaw Coalition (LWK) Director said.
"For the first time since 1993, overall life expectancy has dropped particularly among people younger than 65," Johnson said. Research attributes this to increased levels of obesity and other heart-related conditions.
"If we're going to reverse this trend, it's important for our county's youth to be a part of that decision-making process," Johnson said.
During Just Imagine It, students were challenged to determine one to two realistic actions that can be done by August 2018 to make each school healthier. They also heard presentations from The Honorable James Davis, Chief Magistrate for Kershaw County, Thoyd Warren, Executive Director at Sumter County Disabilities & Special Needs Board, and State Rep. Laurie Slade Funderburk.
"The most impactful thing I learned during Just Imagine It is the fact that students really just want to have a voice," said Rose Montgomery, assistant principal at North Central High School. "They want to have a say in what happens in their school, in what happens in their community, and if you give them the opportunity to give feedback, usually they can figure out the answer."
LWK will be following up with each high school to support the students' in implementing their plans, Johnson said. A follow-up Just Imagine It event is planned for November 2018 and all students are encouraged to bring a friend to get involved.
The LiveWell Kershaw Coalition is made up of local organizations, non-profits, schools, and businesses that seek to improve the health of Kershaw County. Our current priority is healthy lifestyles for youth. We believe that to create sustainable change in our community, we must include the voice and vision of youth in all phases of our journey. Our efforts are funded by The Duke Endowment through Healthy People, Healthy Carolinas and the Institute for Healthcare Improvement. Kershaw County is also a SCALE 2.0 Community and a part of the 100 Million Healthier Lives campaign funded by the Robert Wood Johnson Foundation.