Become a Wellness Rider Today!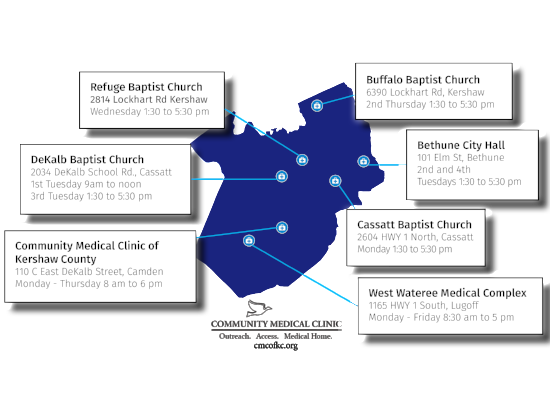 The Community Medical Clinic of Kershaw County (CMC) is more than just a free clinic. It is currently leading the charge to improve population health of the Kershaw County community. 
As a community leader, we want you to be a part of the discussion about population health in Kershaw County. With that in mind, we've organized informative, interactive tours for you, our Wellness Riders.
These tours not only showcase CMC's efforts to impact population health in Kershaw County, but they emphasize the critical healthcare needs our county faces. By participating, you will be an integral part of developing innovative solutions to empower county residents to live healthier lives. In the end, we will all become part of a stronger, more vibrant community. 
Join us today! Sign up to save your seat, click here!
Wellness Rider Dates
The Wellness Rider Tour starts at the West Wateree Medical Complex, located at 1165 Suite 300 Highway 1 South, Lugoff SC. All riders should arrive by 8am to get checked in. The bus will leave promptly at 8:30am.
Be sure to wear comfortable clothes and walking shoes!
Sign up to save your seat, click here!