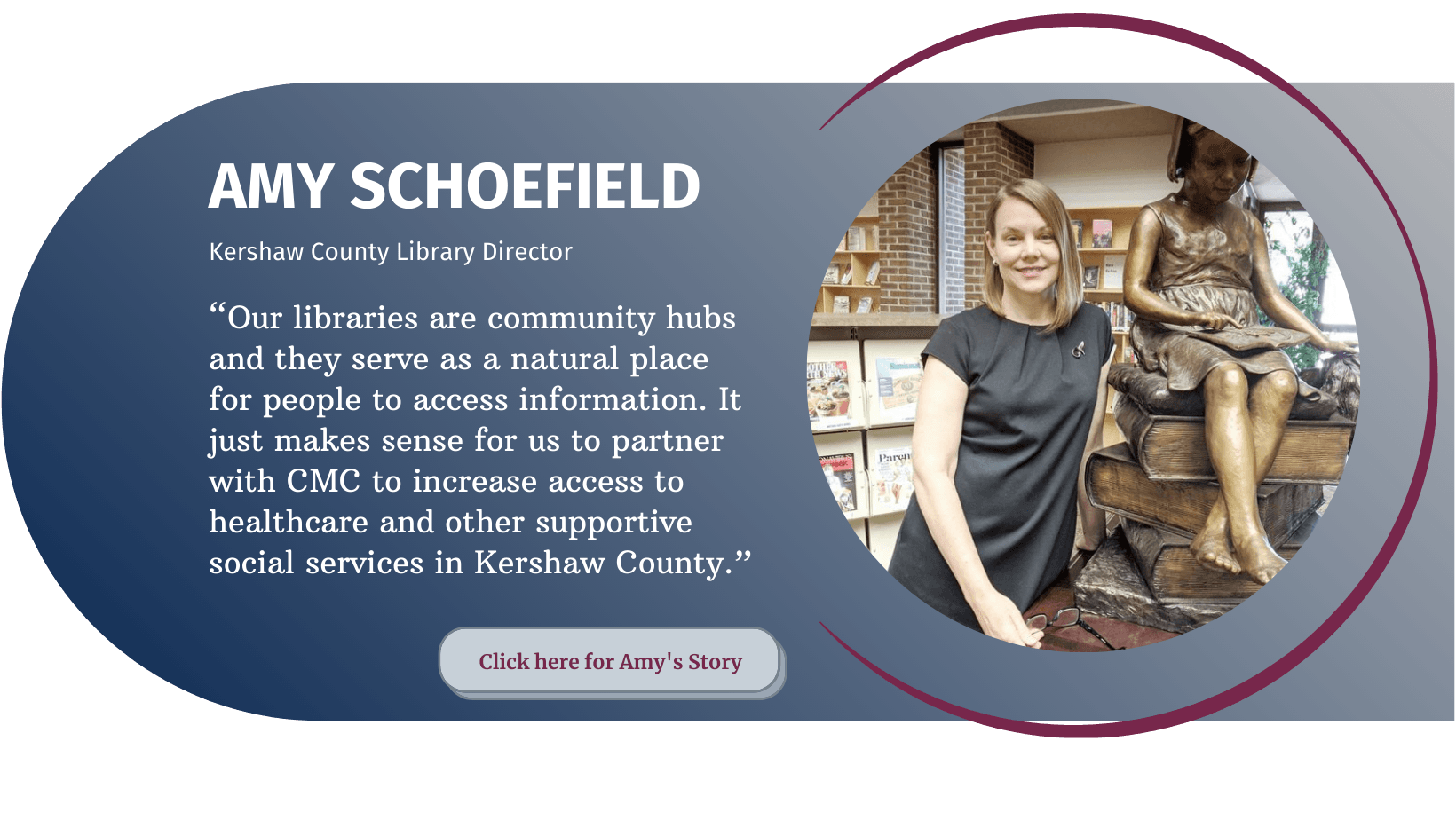 Place-Based Care: Elgin
The Community Medical Clinic offers a variety of services in the Elgin area through a telehealth partnership with the Elgin Branch of the Kershaw County Library. At CMC, we recognize that transportation can be a barrier to access to care. CMC patients can see a nurse practitioner and access many of the same services offered at CMC through telehealth.
Why Zip Codes Matter
Proximity to resources matters when it comes to health and well-being. Household income varies widely across the county, from near poverty-level to high-income. Poverty is linked to poor health. Almost a quarter of Kershaw County residents do not have health insurance.
Elgin Facts 
Population (2019): 1,757
Median Household Income: $44,939
Services
Assistance in management of chronic conditions such as diabetes as well as basic medical care when a patient presents with symptoms of routine illnesses like a cold or the flu.
Diabetes Care: One in ten Americans has been diagnosed with diabetes. This chronic disease is close to home for many of us. CMC is focusing on improving the quality of life for people living with diabetes in our area. The clinic has resources, information, and expertise to help people living with diabetes to lead a healthy life. The Diabetic Circuit Training Program assists CMC diabetic patients with education about meal planning, the importance of exercise, how to live a healthy life with diabetes, and foot care. Through a partnership with SC FoodShare, CMC is able to give diabetic patients access to healthy foods like fruits and vegetables at no charge to the patient.
Access Kershaw: Healthcare is one thing. Then there is food, housing, and transportation that complicates daily living. Access Kershaw connects Kershaw County residents with the resources they need beyond just medical care. This includes help navigating SNAP, affordable housing, employment resources, and more.